Honle and Panacol-USA, Inc.
UV system solutions for individual UV bonding applications

UV systems manufacturer Honle and adhesives company Panacol-USA are partnering to provide state of the art UV bonding solutions.
UV and UV-LED systems made in Germany by Honle are available for every application: UV pens and hand-held UV equipment for prototyping and laboratory work, as well as spot curing systems and high power LED curing arrays for high volume production lines. Honle curing systems are used worldwide in the manufacture of electronics, microelectronics, optics and medical devices, and in the automotive and aerospace industry. Applications include electronics and PCB assembly, encapsulation of electronic components, glob tops and conformal coatings to protect electronic SMDs or dies, lens and display bonding, curing of liquid uv gaskets and FIPGs, and bonding of glass or plastic housings of medical devices or luxury packagings.
UV systems by Honle are available with various wavelengths to adapt to the individual application. Both UV lamps with broad sprectra of light and LED curing equipment with a specific wavelength are provided to ensure fast and cost-effective curing of adhesives and coatings. LED output options include 365, 385, 395, 405, and 460 nanometer wavelengths.
The Honle uv spot systems are equipped with integrated controllers or with power supplies that can drive multiple LED heads to be programmed for sequential or independent actuation. Light footprint options range from 0.5 mm diameter spot units to linear arrays that can exceed one meter in length.
The combination of Honle curing systems and perfectly matched UV/LED curable adhesives from Panacol-USA create highly efficient and reliable bonding processes. Application Engineers at Panacol-USA are available to assist with product selection and technical support for your complete UV bonding process.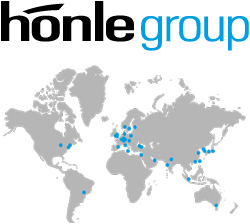 Honle UV technology and curing systems: UV curing pens
Honle UV Curing Pens are basic handheld LED spot lamps that cure adhesives and coatings. Simple, one-handed on/off control enables operators to dispense UV adhesive and cure in one step. With an optional controller, they can also be used in conjunction with robotic arms for automated production. Handheld uv curing equipment
Honle handheld UV curing equipment consists of compact, handheld flood lamps that are capable of curing UV adhesives, coatings, and masks. Both LED and broad spectrum UV/visible units are available from Panacol-USA to accommodate old and new generation UV adhesives and coatings. They are ideal for curing surfaces on components that are too large to move easily. Special filtered units are also available for "blacklight" inspection processes. UV spotlamps
UV spot curing systems from Honle are ideal for fast, high intensity curing of single or multiple deposits of UV adhesives and encapsulants. Available in LED or broad spectrum UV/visible light wavelengths, Honle spot lamps are easily programmed and are capable of generating up to four synchronized or independent curing outputs from a single controller. All options are stocked at Panacol-USA for fast delivery. UV flood lamps
For intermediate curing areas, the Honle UV flood lamps provide homogeneous high intensity irradiation, with size options that range in area from 40 x 40mm to 300 x 400mm. Larger areas of irradiation can be created by fixturing multiple units together. These UV flood lamps are ideal for batch curing components assembled with UV adhesives, encapsulants or UV masks. Honle UV flood lamps are available from Panacol-USA in LED or broad spectrum UV/visible light wavelengths. Large area curing systems
Honle LED and broad spectrum UV/visible light curing systems are ideally suited for robotic processes and conveyorized production. The light emitting heads are very compact, and easily integrated into existing parts handling equipment. Honle LED curing systems can be powered and controlled through a remote PLC. High intensity output permits short curing cycles and very high line speeds. The Honle air-cooled LED Powerline units are capable of producing 16,000 mW/cm2 of curing intensity, while liquid cooled Powerline units can exceed 25,000 mW/cm2. Curing chambers
UV curing chambers paired with the Honle high intensity LED Spot 100 IC or UVASpot broad spectrum UV/visible light flood lamps are available from Panacol-USA. This curing chamber provides the highest level of operator protection from high intensity UV and visible light exposure. The UV chamber door prevents opening unless the chamber is devoid of light from the curing source. UV curable adhesives and coatings can be precisely cured in this very controlled environment. Honle UV curing chambers are ideal for engineering laboratories and batch production processes. They can also be used for aging studies and other simulations requiring light energy.